The Rise of Chatbots in Payments in 2018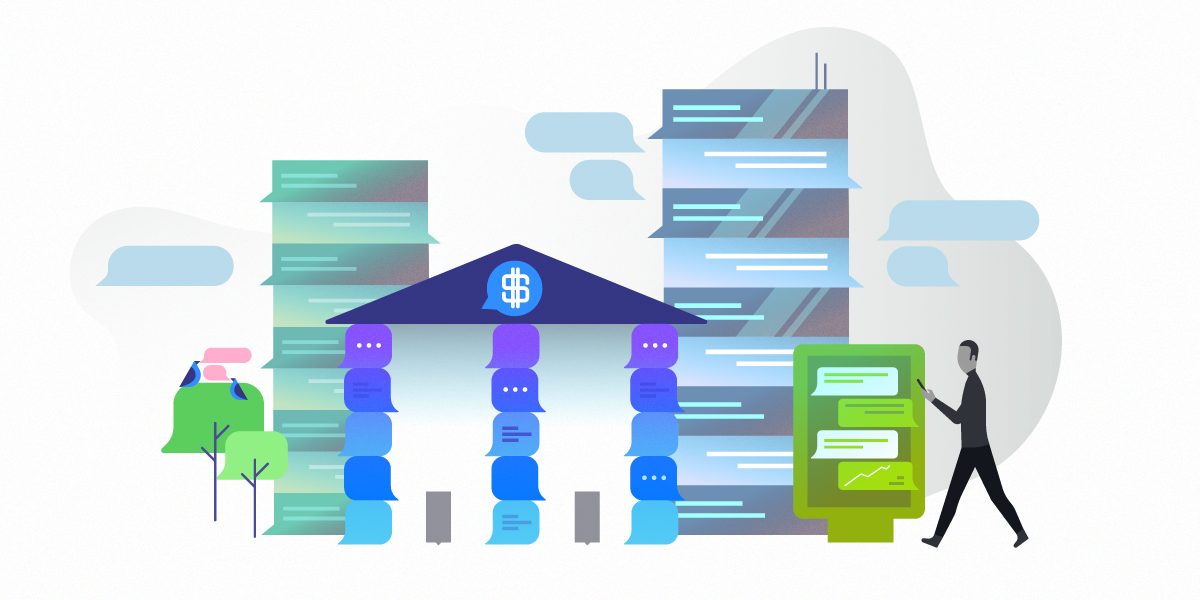 Maxpay CEO, Artem Tymoshenko and Director of Products, Alexey Kulyk shared their thoughts on the role of messengers and chatbots in the future of FinTech industry with MEDICI (former Let's Talk Payments). We suggest you read the text of the article on our blog.
There has been a massive surge in the popularity of using instant messengers to provide online customer support and chatbot work. Even in the banking industry, which is notoriously conservative, companies have been entering the space in droves to increase customer satisfaction and lower costs.
Chatbots have found their way into corporate intranets to provide information and training for staff, and into the internet for all clients and potential customers. Virtually every major bank has integrated some form messenger-based chatbot into their website or as part of a mobile app.
"There is a lot of interest in the FinTech community in using automated messengers to interact with customers," Alexey Kulyk, Director of Product at the international payment provider Maxpay, shares, expressing confidence that using messengers and chatbots are more than just a fad. He believes that chatbots are becoming an integral part of any marketing and customer satisfaction plan.
"In such a dynamic environment, it is key to allow clients quick access to any information about your company and products, whether it is news, interest rates, new products, current balances, or financial results," Kulyk emphasizes. "It's critical to allow clients quick access to any information about your company and products."
The Big Surge
Two of the largest banks in Canada, a country whose banks are conservative even by banking standards, have also jumped into the game. BMO and TD have recently released voice apps that are integrated with Amazon's voice-activated assistant, Alexa, to answer customer questions. The service is designed to not only lower costs but also allow them to field higher volumes of customer requests on their products and services in a way that is convenient to customers.
These two banks are not alone. The Big Five lenders in Canada have been ramping up investment in technology in recent years as a technological arms race has broken out. BMO hopes to win the race and has increased its technology spending last year by a whopping 13%, and plans to continue increasing spending in the future to grow its market share.
While BMO has not opted to perform transactions because of privacy and KYC concerns, Mastercard has taken its own leap with their pilot of "Mastercard Kai." The chatbot will be able to answer questions about personal accounts, retrieve purchase histories and share information about other rewards and benefits.
Payment providers and messaging platforms are also entering the space, offering more convenient ways for merchants to manage their accounts. Maxpay has joined in with its own TelegramBot – a service that allows Maxpay merchants to get instant access to all the financial indicators with just their smartphone.
The Big Advantages
The financial advantages to financial institutions are obvious. A simple phone call to make a payment or check on an account balance costs a company an average of $6. The cost of setting up a chatbot system can be less than staffing a single call center, and there are also other benefits that can directly impact the bottom line.
One growing concern in recent years has been fraud. Even though some of the major concerns about using messengers have centered around privacy, developers claim that chatbots will actually reduce the risk of fraud by automating the process of collecting critical information and providing an extra layer of security.
Another advantage of an automated chatbot is the ability to provide a more consistent voice for every client. It doesn't matter how many people call in, the instant response times with a familiar voice creates a level of comfort with clients that cannot even be achieved with live call centers.
"Everything is very simple with a chatbot," says Kulyk, who works largely with credit card merchant accounts. "Have you ever wondered how long it takes for you to receive a regular bank statement of your account balance? These kinds of answers are easy to find, making them the perfect application for the technology."
While Apple's Siri and Amazon's Alexa are household names now, most chatbots live in social media. There are over 34,000 chatbots on Facebook Messenger alone, providing information to potential customers and driving engagement. Today's consumers need this extra engagement to be drawn in.
"Chatbots are making their way into our daily lives," Kulyk says. "Financial institutions are making themselves just as available to their customers as their friends, relatives, and colleagues are, by being where they already are – online."
It is already unusual for consumers to make significant effort to get information from their financial institution on products and services. When looking for mortgage rates, for example, shoppers may at best check their financial service website. If they don't see it in a couple of clicks, they move on to the next one. Messenger-based chatbots are able to answer questions immediately by quickly accessing information and presenting it faster than a human could, all in an instant messenger that the client is familiar with.
Beyond this, chatbots can provide them with answers to their questions through a consistent point of contact that is always available.
By going to where the consumer already is, all financial service providers can increase customer engagement that will directly lead to more visitors and the creation of new accounts.
The Big Draw
Texting and chat tools enjoyed an unprecedented adoption rate among consumers when they were first introduced, even in the banking industry. A survey of consumers in Canada revealed that more than half of them used Internet banking as their primary method of banking, and the percentage of people that used mobile banking was 3X higher than just 4 years ago. Even ATMs were dropping in popularity in favor of online methods to interact with banks.
The trend now is to make that online experience more natural by allowing consumers to interact with conversational interfaces they are familiar with, rather than filling out forms and checking tables. By allowing them to check the status of a service request, make payments or get information about transactions in the same way they would chat with a friend, consumers are not required to learn a new interface that their service provider requires. They just chat as they would with a live teller.
Studies have also shown that people shy away from calling banks and payment providers because they expect to be greeted with layers of automated menus to navigate through, that inevitably end with them sitting on hold for several minutes. A simple question that takes seconds to answer, can easily take the best part of an hour to navigate, prove your identity, and then explain to one or more people what you need. These phone calls are tedious and frustrating compared to a conversation in an instant chat with an expert.
Messenger-based chatbots allow users to start a conversation instantly and have an answer in seconds. To dig further, users can execute set commands or click on navigation buttons to get any information they need quickly.
Not only are these interfaces quick, but many institutions also allow users to chat without having to install a separate app. Your customers want convenience and familiarity when dealing with their money. Mastercard announced that it is piloting a service in Nigeria using Facebook Messenger to support electronic payments. The company will expand its Masterpass QR platform so that mobile phone owners can accept and make purchases in person without using cash or a physical card.
Developing regions may end up leapfrogging over credit or debit cards and going straight to mobile payments, like many areas in China have done.
The Big Mistake
Along with the benefits, there are also some areas that businesses should be careful of. Chatbots are not a perfect replacement for live customer service representatives. Many clients will have complex or even unique questions that cannot be handled by an automated system. As the Burnistoun clip of two Scottish men trying to get to the eleventh floor in a voice-activated elevator shows, it is always necessary to have a backup plan.
"The big mistake with chatbots has been imagining they could suddenly take the entirety of a conversation and just work by magic," Rurik Bradbury of LivePerson, a mobile and online messaging solutions provider, explains.
There are a lot of conversations that chatbots simply are not able to have yet. What they do well, is take care of the simple, repetitive tasks so that the live agents can take their time helping the customers that really need the hand holding. A good chatbot will be able to resolve 80% of the queries and recognize quickly when the customer needs human intervention.
For interactions through texting, the customer is able to seamlessly move between a live person and an automated chatbot. The conversation can continue for minutes, hours, or months, rather than treating a valuable customer contact as something that necessarily needs to move to a cold "status=resolved/closed". By keeping the conversation going, the chatbot can continue to engage the client in a conversation, listening to their needs, answering their questions, and offering solutions. Ironically, because of the natural flow of the conversation, this hybrid solution can seem less like a robot than many of the live answering services used today.
"Companies are trying to think about chatbots first before they actually have this persistent messaging connection with their customers," Bradbury says. "Instead, you need to start messaging with customers, powered by humans, and then over time, you need to feed in the bot elements."
The Big Conclusion
Banks and payment providers are not only dealing with a more tech-savvy audience today, but they also have much stronger competition for their attention. It is not enough to have an advertisement that shows what they can do; they also need to welcome customers into their space. Financial institutions used to inspire trust and demonstrate competence by building impressive towers. Today, they need to show that they are efficient and up-to-speed on the latest technologies.
Chatbots do all of these things.
"Messengers already know how to provide a high level of service, speed, and access to payment tools that is familiar to clients," Kulyk explains.
"This reduces the barriers to communication between payment institutions and their clients. The increased speed and availability of communication through intelligent chatbots is giving banks and payment providers that adopt the technology an edge over their competition. These kinds of available, convenient, and easy-to-use tools are exactly what any FinTech business need to end up on top."