Webmaster Access 2018 Recap: Five Takeaways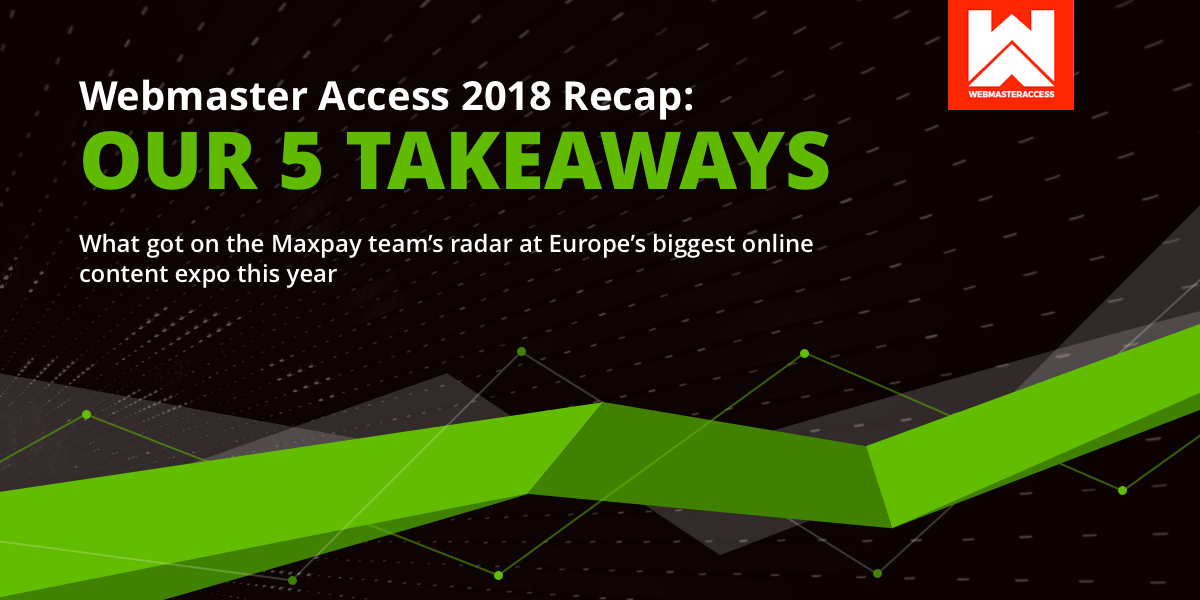 What got on the Maxpay team's radar at Europe's biggest online content expo this year.
This September the Maxpay team has attended Webmaster Access, Europe's biggest and longest-running online content expo for webmasters. The event's key activities centered around business networking and experience sharing among online media professionals and service providers. For a provider experienced in meeting the industry's payments processing needs, Maxpay's goal was to share our vision for the present and future in e-payments with existing and prospective customers.

Aside from the exciting nightlife surrounding the Amsterdam expo – with a variety of daily parties and happy hour events – most of the 1,500 participants from 350 companies had primarily focused on networking, with something to share on the topics varying from blockchain, artificial intelligence and alternative payments to industry's shift towards more user-generated content and mass customisation. From a variety of seminars, presentations and workshops five trends with a great potential to disrupt the industry landscape captured our attention. Here they are, in no particular order:
1. Security and Compliance
While nothing new to the industry, the often interconnected issues of security and compliance with a multitude of local legal requirements continue to pose significant issues to mid-size industry players without extensive fintech and legal staff in major markets. A number of service providers in payment processing and pure-play compliance have been present at the conference, with the key differentiator often being existing verified machine analysed traffic.
Maxpay's take on the trend is when it comes to legal support and local banking insight, we are often seen by our customers as a go-to partner in payment processing and all the jurisdiction registration and bank compliance issues most merchants just can't get with pure-play payment processors in Europe and elsewhere.
2. Industry Friendly Service Providers
While many big name industry players were well represented at the expo, service providers to the entertainment industry were often little heard of and tended to specialise in services specifically developed for the industry needs. Since the industry does have additional trust and security expectations, it actually did make sense that an entire ecosystem has developed around this segment of the online entertainment sector.
In payment processing especially, Maxpay's business vertical, few big name players are actually adult-friendly, with various "Prohibited Industries" lists prominently displayed on their websites. At Webmaster Access, Maxpay was in good company, with several other companies offering industry-specific solutions and expertise. High risk traffic is just that, one just needs experience working with payment segmentation, managing risk, identify fraud patterns – and Maxpay offers just that, optimised for successful payment processing
No business can afford to stay local, but going global is more complicated than translating one's website with Google. As competition grows ever more intense it is even no longer enough for an online content owner to offer local language brands and currency conversion estimate at checkout. Therefore, going global while adjusting to local market expectations, or going "glocal" seems to be the new normal. Already many industry players practice region (EU) and country (Germany) focused approaches, with IP address based customisation of website content and local acquiring for no-added fee billing for their international clients.
In Maxpay's experience of helping clients enter new markets, we have found that establishing a local presence through incorporation and developing local bank relationships have been quite beneficial in lowering payment processing costs and improving customer service by eliminating foreign exchange fees to the buyers.
4. Subscription Innovation
There is nothing new about the profitability of subscription business and the growth of the revenue model, yet surprisingly, still few merchants seem to be doing subscriptions right. Customers now expect a superior user experience, or they will almost certainly cancel their subscription before the end of the trial period. While it is fairly easy to offer customers the recurring billing option, keeping customer focus on what they are buying (not how to buy) with no surprise fees (due to inaccurate currency exchange estimation, for example) is still a challenge to be reckoned with while making the recurring payments funnel a predictable and reliable process for merchants.
At Maxpay we know the customer behaviour micro-actions that can make or break the success of a subscription billing offering. This is why the checkout screens we provide are clear at every step and our dedicated customer success managers often suggest to merchants fairly easy improvement options that help improve subscriber retention.
5. Better Affiliate Analytics Means Profit
With all the affiliates offering the best converting traffic one starts to suspect that something is off. Wouldn't earning more for content owners be just a question of buying more traffic? Of course, the reality is more complex, with no guarantees in terms of predictive funnel conversions and more fact-based and performance-based contracting opportunities. Until affiliate marketers get better at big data forecasting and new performance-based business models arise we think that the huge gap between traffic and profit will remain.
At Maxpay we know which affiliate traffic works better and often help merchants test and evaluate various channels to come up with the best yielding traffic for their specific online properties. We are sceptical of marketing automation solutions offered by some providers, since every business is unique in some way and not every traffic source can offer reliable conversion metrics when not carefully calibrated.
WMA 2018 Takeaways Summary
In short, Access Amsterdam left uncovered many industry challenges that are yet to be converted into business opportunities by the content producers, webmasters and the service providers in the areas of security and compliance, adult industry-friendly service providers, jurisdictional and bank relationship localisation, reducing barriers in subscriptions and predictive traffic data analytics. Yet at Maxpay we remain optimistic about webmasters' ability to meet them with the assistance of expert-level partners.
Our team was happy to share our knowledge in advanced payments risk forecasting, action-based transaction segmentation, revenue-sharing automation, EU legal and acquiring specifics, recurring payments best practices, traffic conversion analytics and other topics of interest for online merchants. We are looking forward to Webmaster Access 2019, but will be happy to discuss adult industry-specific solutions in the meantime.
About Maxpay
Maxpay is a payment processing platform that helps online merchants to start accepting payments in just a few clicks. Maxpay's strengths are combining superb live customer service with big data machine learning analytics, resulting in a cutting edge solution that is reliable, secure, yet easy to set up and use.
Connect and stay in touch!
email: start@maxpay.com
Facebook: Maxpay Limited
Twitter: Maxpay Ltd
About Genome
Genome is a complete payments platform engineered for online businesses in Europe and worldwide that enables fast, easy, low cost and secure payments from anywhere to anyone. The platform combines access to funds in multiple currencies with the ability to spend or exchange them via web/app or using a debit or credit card. Once we open your international bank account (IBAN) sending and receiving funds from anywhere in the world and in any currency is easy, so is managing your online business, all in in one place. ML powered security enables advanced account management from anywhere. Find out more about the unified online money platform at genome.eu