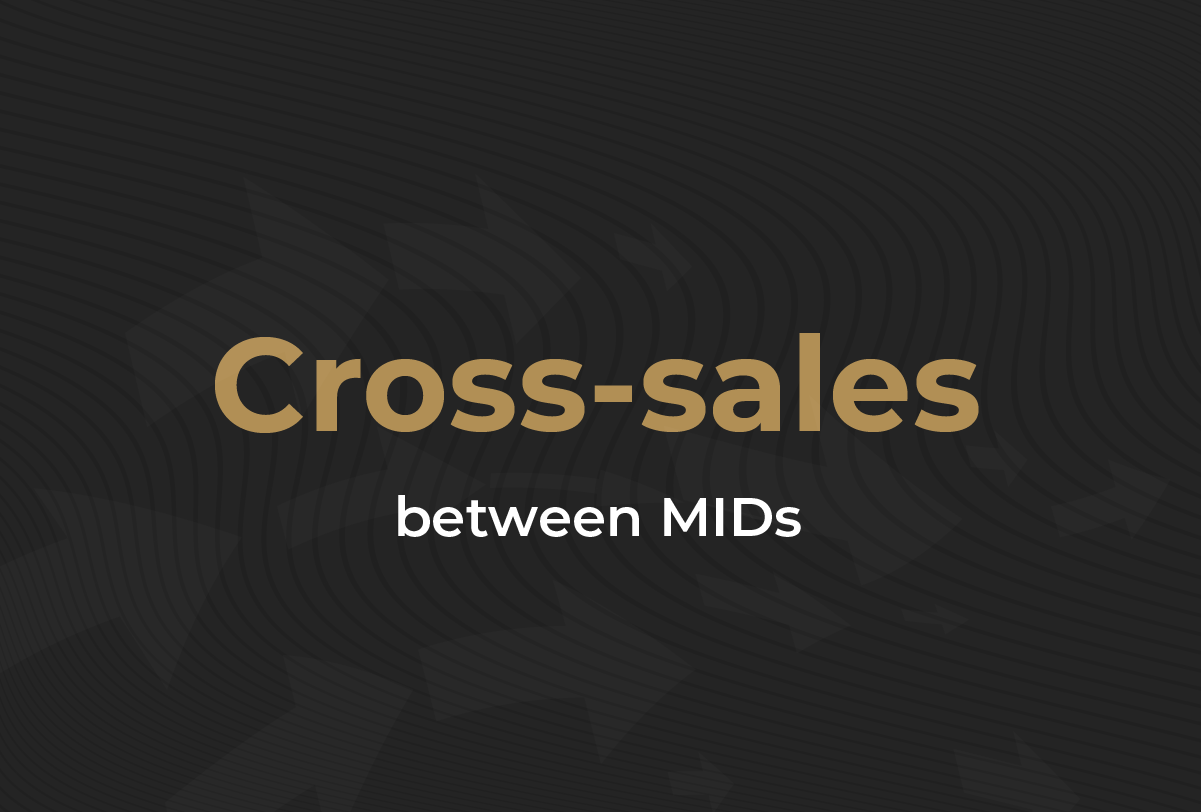 In today's world, any marketing promotion must represent not only product quality but also be relevant for the potential customer. Thus, we at Maxpay decided to talk about two of the oldest marketing tools each company can implement: cross-sales and upsales. We will explain with examples what these terms are, how is this connected to MIDs, and what are the best strategies.
What is a MID?
MID stands for the merchant identification number. A merchant identification number is a unique account manager number automatically offered to every registered merchant by the payment processing provider. MID is essential for secure facilitation and performing electronic transactions.
In the following article, we have explained MIDs in all details, including how to get one, where to find it in the available account manager document, and how MID participates in electronic payments: "What are MIDs in payments?".
A merchant can have more than one MID in account management, in this case, it is called multiple MIDs. Merchant identification numbers can be attached to different business streams, and generally can serve the tax purpose and backup from massive chargebacks.
Maxpay helps our clients with opening multiple MIDs online – no complicated processes or lengthy documentation attached! The merchant accounts are easy to run online, with customizable payment forms and checkout pages, as well as chargeback tracking tools for maximum security for your income.
Wonder what is a chargeback and why is it a danger to your MID? Read about it here: "What is a chargeback?".
The difference between cross-selling and upselling
Both cross-selling and upselling are very old marketing methods that exist since the trade does. The very goal is to encourage a customer to purchase additional items based on the goods or services that she or he already bought. Let's get it straight with definitions and account management examples.
What is cross-selling?
Cross-selling occurs when related or complementary goods and services are sold to a customer. These complimentary benefits are usually easy to pinpoint by the main item a customer buys. Basically, any cross-selling method in account management can be put into the simple question: "Would you like something with this?", where the word 'something' is a complementary product.
Examples:
an airplane company offers hotel booking options after the ticket purchase;
a food delivery service suggests a dessert in addition to the ordered dishes;
an electronic device seller offers certain protection goods for the purchased items, such as a tablet case for a tablet;
a clothing brand proposes some pieces that would complete the full look.
Cross-selling strategies
Supplemental instead of essential. When a customer decides what to buy, it is better to keep him or her on this very product. Offering another essential product would not make an effect. While serving some complimentary items would be perceived as a useful recommendation. For example, buying a camera, a person would not be attracted to the promotion of a tablet as well. Instead, such a product as a camera case would make much more sense.
Performance items. The suggestion of the items or services that can improve the performance of the purchased goods is always a good idea. For example, selling a charger for the mobile phone, or filters for the vacuum cleaner.
Discounts on bundles. Combining several complimentary-like items or services brings more attention, interest, and potential profit. For example, including in one offer, a set of porcelain dishes with serviettes styled in the same way would make a deal.
Complimentary services. This refers to offering services that would keep a purchased item or another service in a good state. For example, proposing laundry services in addition to the rented vacation house. Or selling educational services together with software.
What is upselling?
Upselling happens when a merchant manages to sell better goods or services than a customer originally had in mind. In this case, these goods or services do not complement but replace the earlier needs. The question here that can describe upselling is: "Would you like something better than this?".
Meanwhile, you can also check out all the details about the nature of a merchant account in this article: "Why do you need a merchant account and what you need to know".
Examples:
a car company sells the last year model of the vehicle, instead of the older model;
a marketer sells bio food products, instead of the fabricated;
a beauty products company sells a monthly subscription to enable offers and free delivery;
a sports club sells private guidance while training, instead of the one common coach.
Upselling strategies
Visible profit. Customers need to understand the profit of spending more money. The best way for the account manager is to show for how little money how much usability will come. For example, when selling a haircare set instead of just one shampoo, an account manager should emphasize that only 10 euros more will bring the salon treatment.
Free shipping. When a customer is ready to follow tips and invest more money, a good gesture is to offer free shipping. This maneuver puts a customer at ease after unexpected extra spending.
Social proof. Customers trust other buyers' recommendations. For example, to add the block with what other customers have bought, or what they also looked at definitely catches the attention.
Cross-selling vs upselling comparison table with examples
| | |
| --- | --- |
| Cross-selling(additional logical item or service) | Upselling(better item or service) |
| Selling fries in addition to the purchased soft drink | Selling an extra-large soft drink instead of the standard one |
| Selling rental car services in addition to the airplane tickets | Selling extra legroom within airplane tickets |
| Selling makeup brushes in addition to the blush palette | Selling a full palette of eyeshadows instead of only two shades |
How cross-selling and upselling differ from promotion?
In fact, both cross-selling and upselling are part of the promotion. Promotion is any type of marketing communication with customers about relevant products and services to increase the business profit and reputation. And cross-selling and upselling fit into this category.
Steps approach cross-selling
The first step for the account manager is to connect with other merchants that offer relevant business items or services. To perform it digitally, a merchant would need the merchant identification number of their partner.
You can find out your MID from your bank or PSP. And if you don't have a merchant account yet, contact Maxpay right now for a seamless application for it. Get additional merchant services, such as fraud protection and chargeback prevention solutions, custom payment mages, in-depth performance report, and more!
Then the partner's MID must be added to the system. By doing so, there will be an invitation sent for joining the partnership. After creating a cross-seller offer there are options of visibility for various partners. The suitable one should be delegated with ownership status.