Six years of Maxpay: where the journey has taken us With six years of consistent growth and success among merchants, one might forget how things started over 250 million transactions ago. And as Maxpay celebrates its birthday, we are taking the walk down the memory lane to revisit some of the most meaningful developmental milestones in Maxpay's history.
2014-2017: How the team of payment enthusiasts cultivated Maxpay from ground up
The company began operating on September 2nd, 2014, accumulating a team of specialists devoted to developing an easy-to-use and accessible product for merchants. We created an in-house system and signed deals with 14 partner banks in 2015 alone.
Getting a PCI DSS certificate became an essential mission Maxpay accomplished in 2015. Now the company is fully compliant with PCI DSS level 1 v 3.2, undergoing the certification every year. The first transaction within Maxpay occurred in May.
A mere month later Maxpay managed to sign an ambitious deal with Ethoca – a company specializing in fraud prevention and chargeback protection. Ethoca Alerts allowed warning merchants of confirmed fraud and disputes in days, hours, or even minutes. It is crucial for merchants because without the Alerts they will find out about a dispute within three to six weeks. Our clients found Ethoca immensely useful – in two years Maxpay was propelled into the top three resellers that generated the most alerts for Ethoca.
Gathering the momentum, we launched a merchant portal with a selection of tools for business owners to boost their payment conversion at the beginning of 2016. The analytical tools on the merchant portal allowed merchants to create flexible payment pages. Merchants can now independently manage reporting and customization of cross-platform payment pages.
Maxpay upped the game once again introducing a Covery anti-fraud platform in March of the same year. Covery proved to be effective, reducing the number of chargebacks at least by 62% among clients, and increasing the number of fraud transactions blockage by 79%. Covery is now used not only by Maxpay but other companies as well, setting the bar high for other anti-fraud solutions.
That year Maxpay already diversified its portfolio with 25 banks, and in 2017 the number rose to over 30 banks from Europe, the US, Canada, Great Britain, and Asia.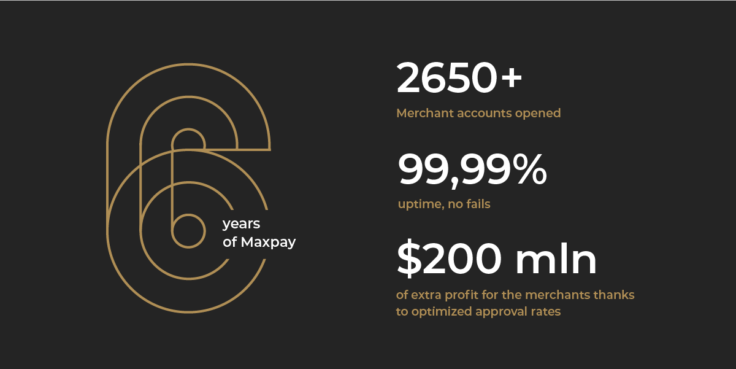 We also enabled a White Labeling solution at the start of 2017, allowing third-party legal entities to enter a cooperation agreement with us, so that they can use our tech platform for their business. Still, there were more challenges ahead the company wanted to take on, and Maxpay's team did not hesitate to dive into them.
Maxpay became a member of the Merchant Risk Council in May – collaboration opened fresh prospects for stronger connections between payment professionals and fighting fraud in eCommerce payments.
The team continued buzzing with work first releasing two payment plugins for merchants who use the Magento and Drupal platforms and then introducing another plugin for WooCommerce platform users. We also began opening incorporation legal entities in the EU for our clients. Basically, we take on the incorporation of a legal entity on behalf of our clients so that businesses outside the EU could open merchant accounts faster with little to no hassle.
Maxpay and ClickDealer decided to join forces in November, establishing multiple benefits for each client. This is what it's all about: while payment processing is being handled by Maxpay, ClickDealer gathers traffic performance metrics from a merchant's website. ClickDealer then uses the data to detect the most profitable sources, so that high-value users can get to the merchant's portal. Not only does a merchant's website access a constant payment processing optimization and high-quality traffic, but also up to 5% cashback on merchant marketing costs.
We at Maxpay knew that diversity of payment types is one of the keys to the merchant's success, so we broaden the payment methods options for our clients. To do so, we teamed up with two digital wallets – Neteller and Skrill in late 2017. Back then Maxpay had around 14 alternative payment methods, and now we offer a staggering 140, including Paysafecard, Trustly, Skrill, Neteller, ecoPAYZ, Zimpler, SafetyPay, iDEAL, Giropay, and many others.
2018-2019: Improvise, adapt, listen to clients' needs
Marking a promising beginning of 2018, Covery launched a collaborative reputation network called Trustchain. And let us tell you, now 300 million user reputation records in the global Trustchain database help Covery customers recognize 40% more bot attacks.
An introduction of a new feature called balance for MID followed shortly. Aimed at merchants, who use several payment service providers in conjunction with CRMs, it allows quick access to the balance data of all business merchant and settlement accounts of a client.
Our team values our clients' time, understanding that new features were required on a merchant portal. And we delivered with a multi-merchants functional, offering them an all-encompassing control over their projects or individual business lines in one place from the portal. Essentially, the merchant portal has become a single point of access for company owners, who have 2 or more directions/projects of payment business. Now you can access all your projects in one dashboard. Maxpay's clients can also check the current balance and the number of transactions through the Telegram chatbot using a unique barcode, which can be found on a portal.
The continuous improvement was noticed not only by the clients, but CV Magazine – Maxpay was awarded as the most innovative international payments platform in August. This being one of many moments of appreciation for the team's creative work, as you will see soon.
During all these years, Maxpay's team had the pleasure networking with 5000 partners, we visited over 200 conferences in 40 countries, most notable being Money 20/20 in Las Vegas, Gamescom in Cologne, White Nights Berlin 2019, Affiliate Summit West in Las Vegas, TES Affiliate Conference in Prague, and many others.
2020 and beyond: There's no room for improvement if you don't break the barrier walls
Like a pressure slowly turns a piece of coal into a diamond, both challenges and customers' appreciation sharpened our team's skills during these six spectacular years. We are still defining the industry's trends, motivated to develop our product.
Maxpay's team expanded, now our payment experts are working globally with offices operating in Kyiv, Malta, Vilnius, Hong Kong, and Palo Alto. We've launched three new data centers during 2018-2019.
Since the first transaction in May 2015, our turnover exceeded a whopping 2,6 billion dollars, and over 251,4 million transactions were processed in 197 countries during these six years.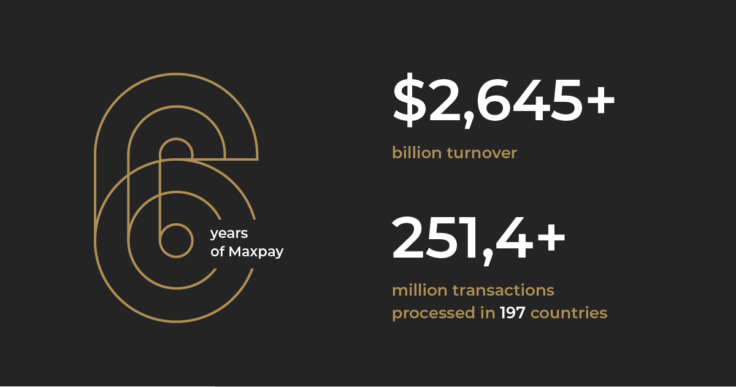 Maxpay increased merchants' protection from fraud even more by implementing the Visa dispute management solution Verifi. Adding this layer of security measures wasn't random, as Verifi's Order Insight has a record of effectiveness with a dispute deflection rate of up to 42%. Keeping up with the times, we obtained a GDPR, a PSD2, and ISO27001 certifications to be compliant with the EU legislation and other regulations.
Maxpay started offering clients the Visa Merchant Purchase Inquiry (VMPI) solution to up our chargeback prevention services for merchants. VMPI allows avoiding friendly fraud chargebacks altogether – merchants can provide the data necessary to prove the validity of the purchase.
The white label solution Maxpay started back in 2017, for online payment processing and risk management, allowed the fintech company Genome to partner with municipal parking services in Lithuania.
The proof that our work pays off came with the Financial Times list of 1000 fastest-growing companies in Europe, where Maxpay – the only Maltese company on the list – took 306th place with a compound annual growth rate of 85,7%.
Acquisition International magazine added to Maxpay's awards collection, naming the company the best online business payment service provider in Malta of 2020. And Covery got into the list of the top fraud solution providers by the Merchant Fraud Journal and was acknowledged in the infographics by About-Fraud. The consolidated efforts of the team and management also resulted in Maxpay's CEO Artem Tymoshenko becoming an Online Payments CEO of the year in Europe, according to Global CEO Excellence Awards.
Maxpay started cooperation with PaymentIQ (Bambora) in late 2020, processing first transactions in 2021. Partnership with PaymentIQ allows Maxpay to reach more clients, which, in turn, can experience our seamless and secure payment gateway and merchant services.
But for us, the greatest reward is that in the last six years the team grew to 90 professionals and thousands merchants trusted Maxpay with their business, and each day we strive to go the extra mile with our services. Keep rocking, Maxpay!