Tips to ensure online payments security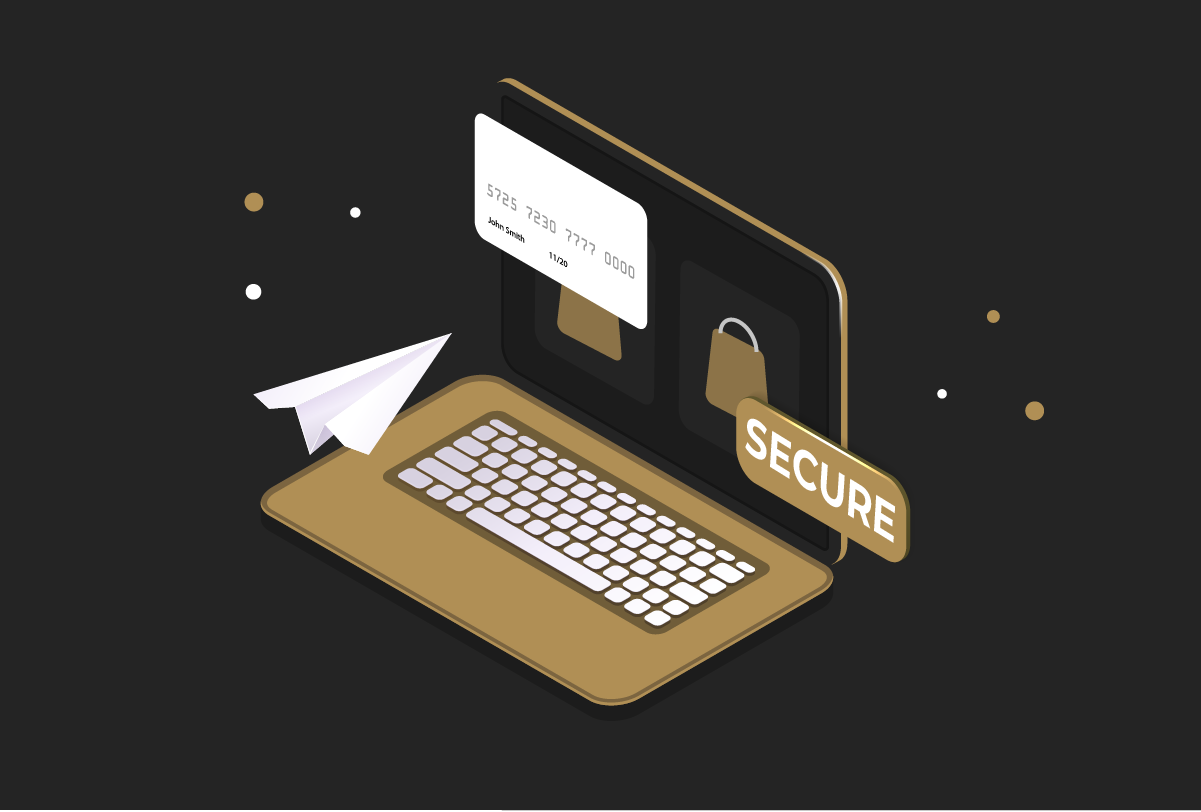 Just like payments, the security of them goes both ways. Meaning, both merchants and customers should take care of this issue. But no worries! There are many useful technologies to help you in securing payments and keeping transactions safe. And, of course, there are banks, PSPs, and payment gateway service providers (like Maxpay) that can make the experience more secure for all parties included.
Today, we are looking at some of the most common ways to protect online payments.
Which online payments are the most secure?
Unfortunately, no payment method is 100% fraud-proof, and merchants can get chargebacks no matter how their clients pay for goods. The problem with online payments fraud is a global one, as it is much easier to scam someone when you don't see a person face to face.
That is why banks, financial institutions, and other companies come up with new solutions that help prevent fraud and high chargeback volumes, which can make any business fall under the high-risk category.
For now, credit and debit cards are likely the most secure payment method. Most people prefer using them to other payment methods, prompting more active regulation and more anti-fraud tools catered to the cardholders. For instance, the Mastercard, Visa, etc. card users are protected by the PCI DSS, which is discussed later in the article.
Still, any electronic payment method can be safe for both customers and businesses, if the latter chooses a reliable place to open a merchant account at.
Maxpay helps companies with the merchant account opening and has all the tools necessary for safe online payments. Our payment gateway service provider is PCI DSS and PSD2 compliant.
We offer merchants 3D secure – a crucial service that allows a double authentication of a customer when they make a purchase. This allows reducing fraudulent transactions significantly, and the merchants can analyze how their clients interact with 3D Secure service using Maxpay's reports.
Need more information? Check out this article: "What is 3D Secure and why merchants need it".
Moreover, Maxpay has developed the Covery anti-fraud platform. Covery has advanced features for risk management and fraud protection. We also provide chargeback prevention services with a VMPI solution and Ethoca Alerts. You can always contact us at start@maxpay.com for more information. 
Tips to ensure payments security
Protect yourself with two-factor authentication
Known simply as 2FA, this is a type of authentication when a person needs to provide additional login credentials, not just an email and password, to access their account.
This additional authentication type differs: in some cases, you will need to enter an OTP, in others – answer the automatic phone call, or confirm your identity via your phone/using the biometric data. Either way, you are required to confirm that you are the one who enters the account. It significantly reduces the chances of someone else logging into your account and stealing your personal information, including the financial data.
The 2FA can be used in many scenarios. For one, people can enable two-factor authentication on their social media profiles to keep their data safe from breaches. It may seem too complicated, but in reality, lots of information people share online can be used by hackers.
As for merchants, if you offer clients personal profiles on your website, enabling 2FA is a must. Elsewise, a fraudster can log in to your client's profile, order a bunch of things, and you will have to deal with reputation and money losses as a result.
Also, when you choose a bank or a payment service provider – either for your personal or business needs – make sure this financial institution also has 2FA. This is a good marker for how secure their services are.
Use third parties for storing customers' data
This advice is for companies. In this case, we mean the customers' financial data and payment credentials they fill in when buying something on your website.
Storing this information is not a great idea. You can get yourself into a very unpleasant situation if the data is stolen. Reputation deterioration and lawsuits may ensue.
To avoid the risks, you can find a third-party payment solution that will also handle the data storage for you. Banks and PSPs usually have more sophisticated security systems in place, that scammers find much harder to breach.
Get cyber liability insurance
In some cases, a merchant can't completely outsource the customers' data storage to third-party companies. If you find yourself in a similar situation, you need cyber liability insurance.
As the name suggests, this kind of insurance takes on the company's liability for data breaches. The insurance can soften the blow if the unfortunate situation occurs and the customers' data gets stolen.
Use a personal verification system
Imagine this scenario: a client wants to buy a very expensive item from your e-store, or requests products in a bulk. It may be risky: you want to make sure there are no fraudsters on the other side of the screen. And you actually can – with a personal verification system. Using it, you can request that a customer verifies their identity by showing their ID or other relevant documents.
Get an SSL certificate for your website
Maxpay's team has covered the SSL certificate before, as its implementation is an important part of securing payments.
Here's the short and sweet explanation: the Secure Sockets Layer (SSL) protocol encrypts a person's data as soon as they go to a website that uses said protocol. Thus, the information transmitted between a customer (like credit card details, etc.) and a company's website will be encrypted to protect it from malicious parties.
If you are a customer, you can easily find out whether the website uses the SSL protocol: just take a look at the address bar – if there's a padlock or 'https' at the beginning of it, you are good to go!
Make sure your hosting provider has safeguards in place
The hosting provider should be as passionate about online payments' protection as you are. For one, it needs tools for monitoring potential malware threads, encryption features, and other security instruments in place to prevent breaches.
Comply with PCI DSS
It is one of the main things businesses must do to protect their clients' data.
Any organization that transmits, processes, and stores credit card data must comply with the Payment Card Industry Data Security Standard.
For more information, check out the article: "PCI DSS compliance frequently asked questions".
As for merchants, they need to befit certain PCI DSS requirements if they want to keep their customers' information protected from breaches. You can find the full requirements list here.
It is crucial that the financial institution you work with also follows all the PCI DSS rules and undergoes certification yearly.
Explain the importance of VPNs and security to your customers
As mentioned before, securing payments is a two-way street. Merchants have to implement multiple tools for the purpose, but the customers need to be aware of how not to overshare their personal details as well. Using the 2FA when logging into different websites is only a part of it. People must not tell their payment credentials to anyone – no legitimate bank will call you to ask for your credit card number. Enabling VPN when browsing is also a good safety precaution.
To educate clients on all this useful information, merchants can publish blogs or newsletters on the topics on their websites.
Find a secure e-commerce platform
If you are new to the online shopping business, you don't need to create a website for your goods and services from scratch. Instead, you can use the services of an international e-commerce platform or marketplace. It means that a merchant won't have to take care of as many security updates and issues, the platform owners will.
Of course, there are drawbacks to this decision – you will have to pay fees for all the services your platform provides. Still, nowadays, there are plenty of marketplace options to choose from. And by the way, a company can also find a reliable PSP or payment gateway service provider for an additional layer of protection.
For instance, Maxpay offers our customers free, easy-to-install plugins for major platforms and marketplaces like Shopify, WooCommerce, PrestaShop, OpenCart, OXID, Magento, Drupal. Just join one of the said platforms, open a merchant account, install a plugin and start accepting online payments for your goods and services!