Contactless payment systems vs online payments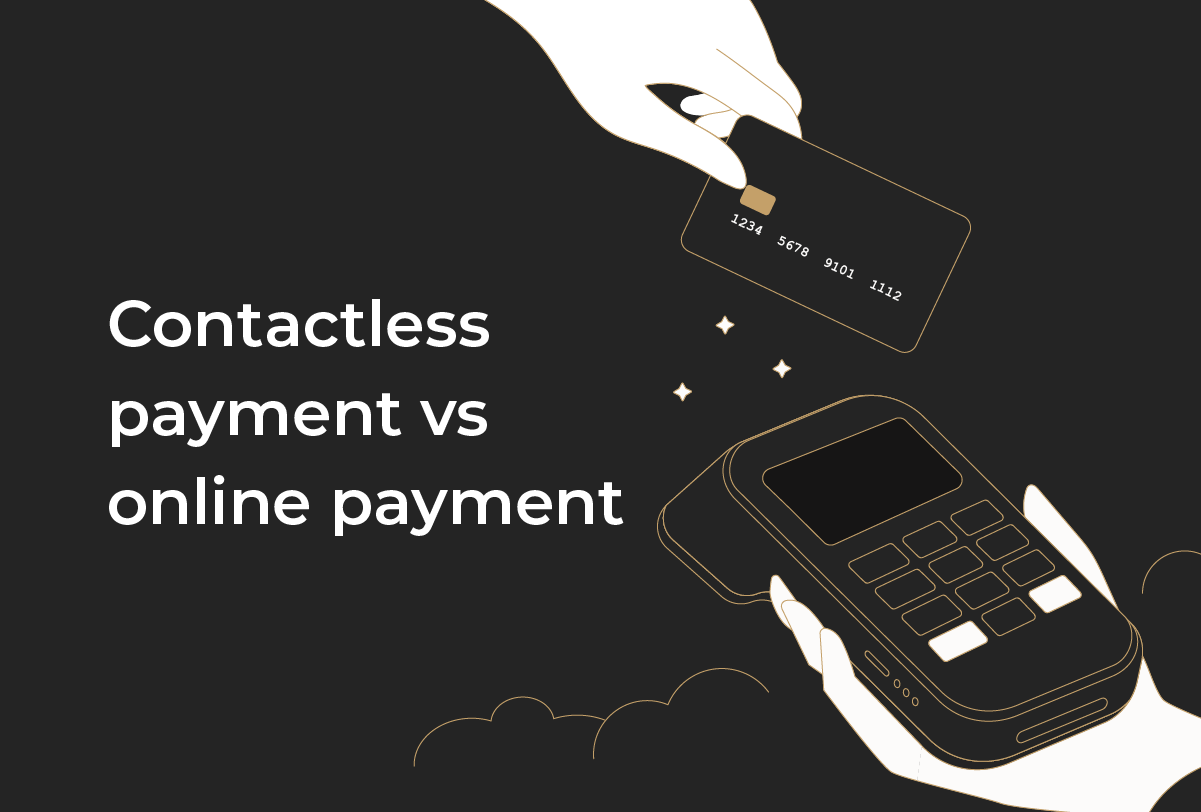 Both contactless payments and online payments are at the peak of popularity in 2021. But still, these two systems have completely different roots and purposes. Today Maxpay will talk about each of the payment methods in detail, explaining how they work, and how they differ.
Contactless payments in 2021: statistics
In 2021, contactless payments became as popular as ever. Mostly because of their practical usability, but also for a reason of the global pandemic outbreak. According to Visa research, 63% of consumers would prefer a business with an implemented touchless payment method if all the other factors such as price, product line, and location were similar.
The study also shows that more than 45% of international consumers share an opinion that a contactless payment method is the most urgent safety action that physical stores should apply.
At the same time, a Mastercard survey presents that almost half of respondents have already changed the habit of physical payment to contactless one.
What are contactless payments and do they work?
Contactless payment technology is a type of payment that allows a customer to purchase goods and services with debit and credit cards via radio-frequency identification technology or simply RFID. This payment method does not require a card swiping, PIN entering, or a signature.
A radio-frequency identification technology relies on electromagnetic fields to recognize and trace tags that are connected to special objects. The RFID system includes a radio transponder, a radio receiver, and a transmitter. When used by an electromagnetic interrogation pulse from the nearest device with RFID technology, the tag is transferring digital data, locating an inventory number. Besides the payment industry, RFID technology is also applied in passport identification, access control industries, advertising, design, education, and health.
Mostly, payment sizes on credit and debit cards are restricted for contactless payment. The permitted payment sum for a contactless purchase differs from country to country, and by the bank. A merchant and retailer can personally opt for a certain limit for their payment system aiming to prevent fraud.
Two types of contactless payment technology
In the contactless payment system, there are two main ways to perform a transaction or to transmit the card data: using EMV chip cards or the tokenization method. The first one is EMV. EMV stands for 'Europay, Mastercard, and Visa'. Thanks to this method, all the issued plastic credit and debit cards with an implemented smart chip or cryptographic chip are valid for performing a contactless payment.
Cards with chips inside are also called smart cards, as they enable wireless purchases from EMV chip systems and payment terminals utilizing RFID technology. At the moment when a smart card is physically attached to a point-of-sale terminal, it identifies the card issuer's information through a chain of verifying interactions. After the successful verification, merchants can accept payments for goods or services.
The second method is tokenization. It is relatively a new approach in banking history but quite well-known for all the young consumers. Tokenization is achieved by connecting a smart debit or credit card to a hardware device such as a mobile phone, enabling this device to make purchases relying on RFID technology attached against a point-of-sale terminal. The payment is processed on the behalf of a smart credit or debit card utilizing a token generated by a card issuer. Today the most popular tokenization methods are Apple Pay and Google Pay.
How to accept contactless payments?
To accept contactless payments, a merchant should obtain a point-of-sale terminal that has a special symbol pointing out the RFID technology. A point-of-sale terminal or POS is a hardware tool that enables payment processing from credit and debit cards and physical payment locations. Software to encode the card data and accept the payment is implemented in the hardware.
To get a point-of-sale terminal, a merchant must open a merchant account at an acquiring bank. Merchants also need physical hardware among other merchant services. The other merchant account providers, such as PSPs and payment gateway service providers are not suitable for physical stores and are used for e-commerce websites. Here we explain the nature of a merchant account, and describe all three types of providers: "Why do you need a merchant account and how to set it up safely?".
Online payments in 2021: statistics
The Statista data reveals that from 2017 till 2021 the online payments sector value has more than grown twice in size. In 2017 the online payments sector was worth over $3 trillion, and in two years, it reached $4.7 trillion.
Last year the sector hit the value of over $5 trillion, and currently, it is expected to exceed $6.6 trillion. In the next four years, the online payments sector is predicted to be worth $10.5 trillion.
What is online payment?
An online payment or an electronic payment is a payment that facilitates the acceptance of electronic purchases for a digital transaction. An online payment event always happens on some of the online platforms, such as a website, application, and so on. It allows a customer to pay with a range of payment methods including credit and debit cards, mobile payments, local currencies, cryptocurrencies, and others.
For online payment, a physical presence of a card or a wallet is not necessary, just the data of it is required. Here we describe how online payment works and which parties are involved in the process: "The basics of online payment processing".
Still, the industry of online payments is subject to fraud. While in physical card payments, fraud takes the form of plastic card theft, in digital payments fraud is shaped into identity and data theft. Thus, merchants need a reliable online payment provider, well-secured with fraud prevention services, and compliant with international security standards. Here you can read about the following providers: "Are you using the right merchant services provider?".
How to accept online payments?
To accept digital payments in e-commerce, a merchant must get a merchant account that includes merchant services for the full cycle payment acceptance. In most cases, the payment processing would require a merchant account for collecting funds, a website for performing transactions, a payment gateway for connecting with inner banking networks.
A merchant account for e-commerce can be issued by three financial institutions. The first one is acquiring banks. They offer services for both online and retail businesses, demanding quite high fees and long contracts, acquiring banks are suitable for big businesses. The second one is payment service providers. PSPs work only with e-commerce and offer an implementation of a full payment cycle on a merchant's platform. The third one is payment gateway service providers, that present only a payment gateway technology for online payment facilitation.
Contactless payment systems vs online payments
Contactless payment is a payment method that requires a credit or debit card and that is performed in physical retail stores. For its implementation, a merchant needs special hardware such as a point-of-sale terminal. A merchant account in this case can be issued and maintained only by an acquiring bank.
Online payment is a payment method that relies on credit or debit cards or other digital wallets. Unlike contactless payment, an online payment happens online, on the merchant's website and payment platforms. To accept online payments, merchants need to partner with an acquiring bank, a PSP, or a payment gateway service provider.
The comparison table
| | | |
| --- | --- | --- |
| | Contactless payment | Online payment |
| Merchant account needed | + | + |
| Merchant account issuer: acquiring bank | + | + |
| Merchant account issuer: payment service provider | – | + |
| Hardware needed | + | – |
| Fraud protection | + | + |