Most popular e-commerce payment methods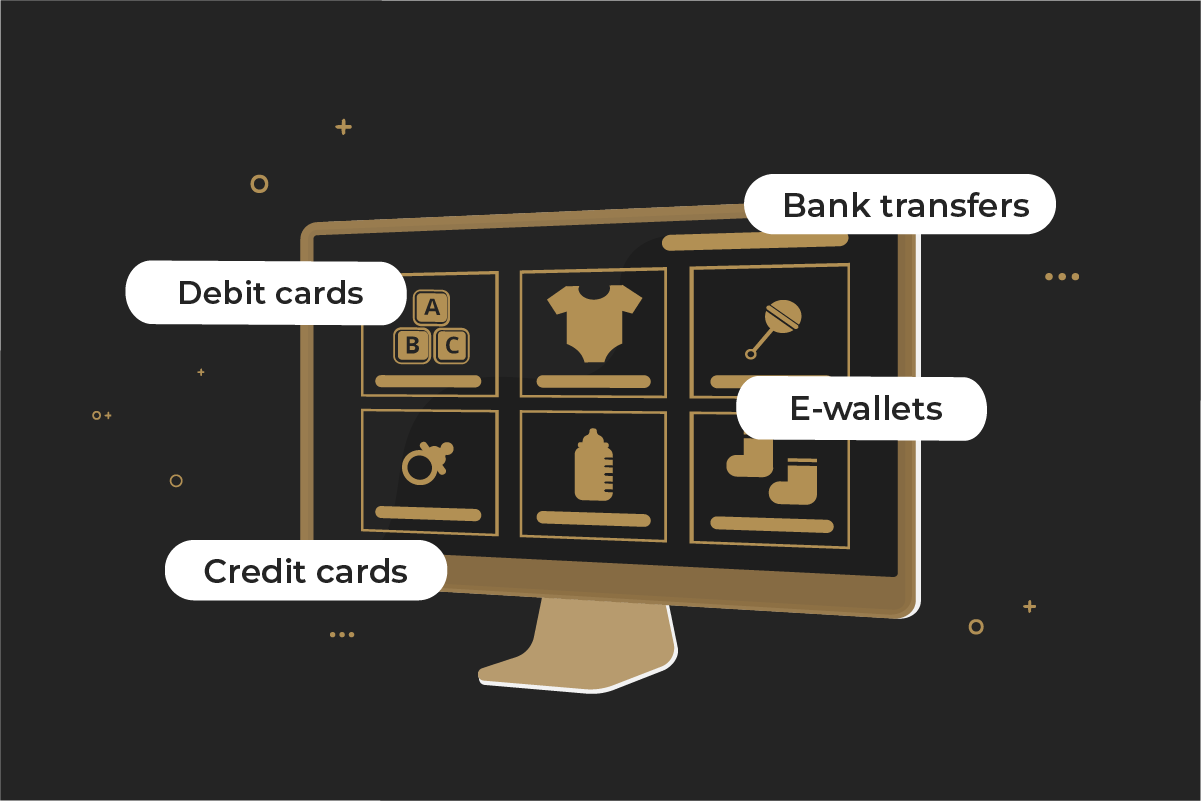 There are so many components to setting up the ecommerce website that merchants sometimes forget what it is all about – making your customers' experience great. At the end of the day, your business growth depends on how much people rely on your services and buy products.
There are many ways you can increase the number of customers, one of which is diversifying the payment methods you accept on your website. First of all, it will prompt more people to buy from your business. It will also show that you are eager to accommodate their needs when it comes to online payments.
So, what do you need to pay attention to when it comes to different payment methods? Find out in Maxpay's article! 
How to choose the best payment method for e-Commerce?
In today's e-commerce climate, you can't really tell which payment method is truly the best. More and more people grow accustomed to buying things online – especially due to the lockdowns taking place internationally. And a lot of customers prefer using different payment methods.
According to Worldpay's Global payments report 2021, digital and mobile wallets were the most popular payment method worldwide in 2020. Last year they accounted for almost 45% of the e-commerce transactions worldwide, compared to credit (22,8%) and debit cards (12,3%). Moreover, it is expected that even more people will be using e-wallets for online shopping in 2024 – over half of transactions (51,7%) will be made using them. Meanwhile, the popularity of credit and debit cards is forecasted to decrease (20,8% and 12% accordingly).
What's interesting, is that the January 2019 survey carried out by UPS showed that credit and debit cards were the preferred online payment method for North and South Americas (82%), APAC (71%), and India (73%). On the contrary, respondents from Europe said their number one option was payment providers like PayPal, UnionPay, Alipay, etc. (80%). Credit and debit cards were Europeans' second option – 69%.
As you can see, people's preferences change. But the best payment method cannot be decided through the statistics alone. For one, there are countless ways you can make purchases online, and all of them have their benefits and drawbacks, which we will discuss in the article. But merchants should also keep in mind that some payment methods are interchangeable, and having only one option on your website – is a bad option.
When choosing the payment methods you want to offer your customers, businesses must have clear strategies of which countries they are selling their products to. On this basis, it will be easier to recognize which payment methods will be the highest in demand.
Now, let's go through some of the most well-known online payment options.
The most popular payment methods in e-Commerce
Credit and debit cards
As the aforementioned statistics demonstrate, online payments made with cards remain widely around the world. This is one of the most common payment methods, and we definitely recommend that you allow it on your website.
Moreover, credit and debit cards have been around for a long time. It means there are lots of tools and regulations that protect these types of online payments.
It works like that: a customer needs to enter their card details: its number, CVV, and expiration date. As you can see, the process is pretty simple, which explains why a lot of people prefer cards to other payment methods. Need to know more? Check out our article on the basics of online payment processing.
E-wallets
The penetration of electronic wallets grows day by day and no wonder! This payment method makes online payments even faster than with cards. You see, an e-wallet can store both money and financial data necessary for transaction completion. Just make sure you link your bank account to the wallet, or pre-transfer funds onto it.
When purchasing online, a customer is redirected to the e-wallet page. They will only need to enter their e-wallet password to complete the order. Of course, this simplifies the process a lot but also opens more possibilities for fraud. Make sure you choose a secure and reputable wallet if you want to try out this type of online payment.
Mobile payments
Similar to e-wallets, mobile payments emerged as a matter of convenience. As the name suggests, these online payments are carried out with the help of your smartphone. They are usually used for payments on social media websites, donations, and apps.
All a person needs is to download the necessary software and link their mobile wallet to the card. From there on, a customer can make purchases with just one tap. This payment method is a good option for e-commerce businesses that have apps.
Prepaid cards
This card can be used if money is preloaded onto it prior. This payment method is more common among people with no bank accounts, as well as late teenagers.
The prepaid cards are limited by how much money is on the card. If a person has spent all the money, the card is useless until they preload more funds onto it.
Bank transfers
This online payment method is used by people that don't want to disclose any payment details to the ecommerce stores or don't have a debit/credit card, only a bank account.
To complete the purchase, the transaction must be verified and approved by the customer's bank.
Payment gateway and how does it work?
It is an integral part of the online payments process and must be used for electronic card payments. Payment gateways are usually described as a virtual version of the point of service terminals used in retail stores.
When a customer buys something online, a payment gateway that the merchant uses receives their payment data (like a card number, CVV, etc.), encrypts it for security, and passes it on to the payment processor. The processor, in turn, sends the information to the acquirer, card association, and an issuing bank. The latter either approves and declines a transaction. The message on whether the payment was successful or not then gets back to the payment gateway, and the customer gets informed of it as well. This whole process takes seconds to complete.
You can find out more about different ways a merchant can integrate a payment gateway on their website in this article.
Why should you use payment gateways for your e-Commerce store?
First and foremost, you need a payment gateway to receive payments via cards. But aside from that, there are many benefits to using it.
For one, it makes the checkout process on your website swifter, which is crucial for keeping your customers in good spirits.
One of the main payment gateways' tasks is to provide a safe environment for customers' data and transactions. So, not only do they encrypt the data they transmit, but also provide other security tools to protect customers and merchants from scams. For instance, they can offer 3D Secure services, which make customers pass the double authentication to ensure that the provided payment requisites belong to them.
Some payment gateway providers have anti-fraud and chargeback prevention tools to protect merchants' revenue and reputation.
While on the topic of security, we recommend checking out the article: "How to avoid problems with online payments".
Also, payment gateways offer merchants multiple traditional and alternative payment methods.
What are the best payment gateway tools?
Different payment gateway providers have various tools, and to determine, which one of them is the best, a business should first pinpoint their main needs, and how a gateway can help with them.
For instance, if your company is high-risk, look for a payment gateway that offers chargeback prevention services. Don't have technical capabilities for maintaining a gateway – choose the one that offers hosted integration, etc.
Also, when choosing a payment gateway, pay attention to the following:
The gateway needs to abide by PCI DSS compliance;
Charges you will need to pay for setup, monthly fees, and fees per transaction;
The ability to contact the gateway's support team 24/7;
The reviews other users leave;
Find out more about the features top payment gateways provide in this article: "The top 10 most popular online payment gateways for your website, compared".
As for Maxpay, it is a payment gateway service provider that also helps companies with multiple merchant accounts opening. Our payment gateway is perfect for seamless and safe payments on your website. 
Maxpay offers 140 alternative payment methods, which will broaden your clientele around the world significantly. Moreover, merchants get protected with the services of a top anti-fraud platform, Covery.
Maxpay has integrations with some of the most common e-commerce platforms. All you need to do is install a free plugin and use the platform of your choice and Maxpay's services at the same time! The plugins are available for Shopify, PrestaShop, WooCommerce, Drupal, and more!
Conclusion
The best way to accept online payments is to offer clients as many payment methods as you can, as well as provide them with secure, flexible payment gateway services. The trust and pleasant experience of your customers are what encourages the growth and success of your business.