Top 3 ways to accept payments online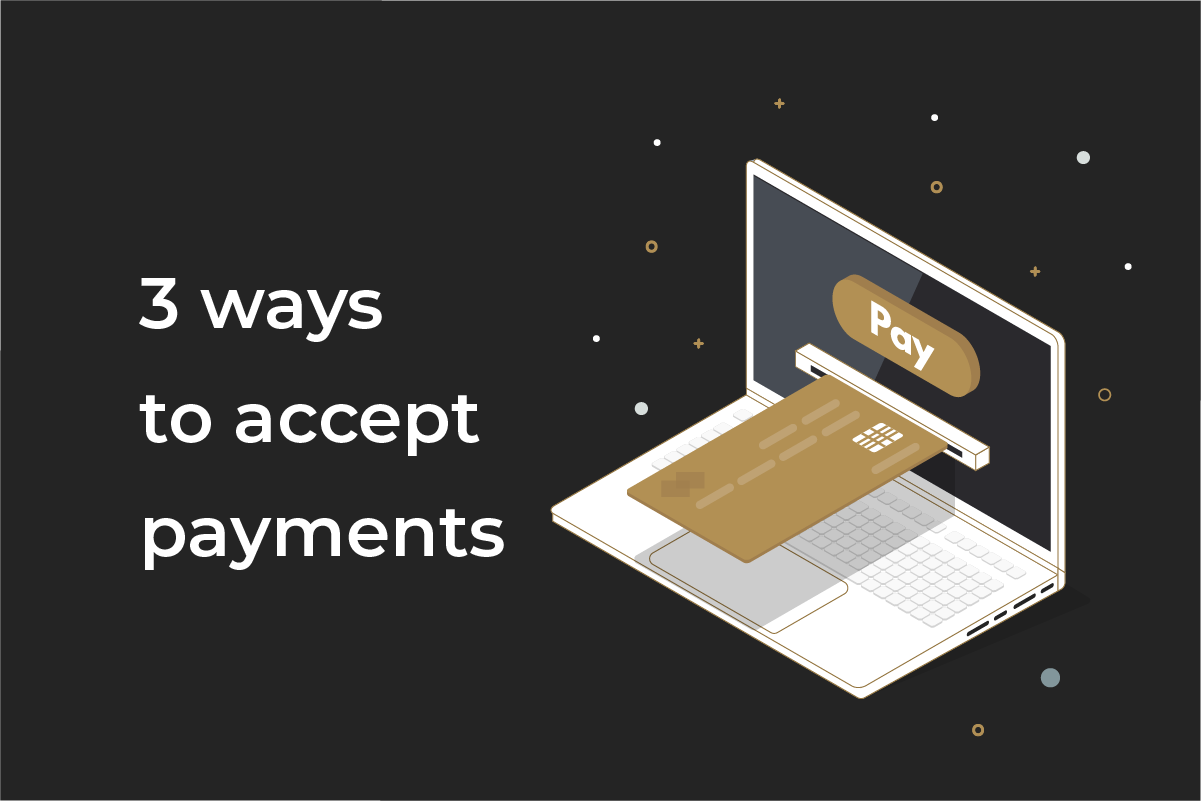 In the world of digital activity and eCommerce blooming, accepting payments online is a key to survival for many businesses. Today we at Maxpay will discuss how to accept payments online, how this process works, and what are the best options for merchants on the market.
Online payment processing: how does it function?
Online payment processing controls the flow of an electronic transaction. It is responsible for its sustainability, security, and step-by-step performance. At the same time, online payment processing is a complex operation that connects various financial institutions, web payment tools, and communicators. Firstly, let's mention all the parties that are involved in the electronic transaction process.
Merchant account. A merchant account is a bank account for business owners established to collect electronic payments via payment cards, mobile payments, e-wallets both in retail spaces and online platforms. It is the only type of account that allows accepting electronic funds, and so it is necessary for accepting online payments. Still, a merchant account does not substitute a business bank account, in this article, we explain what the difference is in detail: "Why do you need a merchant account and how to set it up safely?".
Merchant account provider. This is a financial institution that issues merchant accounts for merchants. There are three types of them: acquiring banks, payment service providers, and payment gateway service providers. A merchant account provider is in control of concluding the electronic transaction processing for businesses. Here you can check more information about merchant service providers: "Are you using the right merchant services provider?".
Payment gateway. A payment gateway is a web tool that initiates electronic transactions. It activates each time when a customer presses a "purchase" button on the website. A payment gateway gets the customer's payment data, encrypts it, and redirects it to the payment processor. Check this article if you're about to choose a gateway for your website or if you simply would like to dive into the topic more: "How to choose a payment gateway to make your business work better".
Payment processor. A payment processor takes care of the transaction flow. It verifies the payment limit of a customer's bank account, the validity of this bank account, availability of requested funds to perform the given payment, and at last, it does a security check. After a successful verification, the transaction is either completed or declined. If something is still unclear, we recommend this piece to read: "Payment gateway, payment processor, merchant account – what's the difference".
Card association. Card association is basically a card brand, whose role in the transaction flow is to process its own cards. The most famous ones are Visa, Mastercard, and American Express. These brands represent a huge network of issuing banks along with acquiring banks, which are merchant account providers.
Issuing bank. An issuing bank is the bank institution that issues private bank accounts and gives customers branded payment cards. Thanks to issuing banks, customers can take part in electronic payment processing, including physical and online purchases.
How does online payment processing work?
At first, at the checkout page, a customer places an order and continues to the payment, inputting their payment data along with shipping information. The online payment processing starts.
At the very first moment, the payment data gets encrypted and transmitted to the payment gateway. From a payment gateway, it is sent to the payment processor.
The payment processor transfers the encrypted data to an acquiring bank of a merchant.
The acquiring bank communicates with the card association of the very same transaction.
Card association using a banking network demands certain information from the issuing bank of the customer's card.
The issuing bank answers this demand by confirming or declining if a customer's identity, money availability, transaction limitation are valid.
Then the payment processor transmits money to the merchant account. It also notifies a payment gateway on the state of the transaction: if it was approved or declined.
The payment gateway transfers the notification to a merchant and a customer. If online payment is accepted, the money is transferred to a merchant account.
Follow this link if you would like to know more about online payment processing: "The basics of online payment processing".
How to start accepting payments online
To answer how to accept online payments, we should look at online payment processing. First of all, a business owner must be registered as a merchant, and open a merchant account to be financially allowed to collect money from electronic transactions. As we have mentioned before, there are three types of merchant account providers: acquiring banks, payment service providers, and payment gateway service providers. Each can issue a merchant account and offer other merchant services, such as a payment gateway, chargeback alerts, fraud prevention, etc. The choice depends on business needs and preferences.
How to set up a merchant account
Understanding business needs. At very first, a merchant must define the business needs. It will bring an understanding of which merchant services and solutions would come in handy. The main factors to rely on are the payment methods, location, and currencies, digital platforms to perform transactions, processed volumes of transactions.
Select a suitable merchant account provider. Having defined business needs, and understanding which merchant services and solutions are applicable for your business, search for a good merchant account provider. We recommend you to keep in mind the following points: merchant services offered, fees and payment structure, legal agreement features, offered checkout experience, simplicity of the onboarding process, customer support of the provider.
Apply for the merchant account. An application process usually requires certain documentation from a merchant, which varies from provider to provider, the application form itself, and the agreement between a business owner and a provider. After the form is processed and verified, a merchant account is issued.
The second tool that is a must for participating in the electronic transaction flow is a payment gateway. A payment gateway is also in the chain of merchant services and can be set up by one of the providers.
How to choose a payment gateway
Choosing a payment gateway, a merchant should look carefully into the following parameters:
Payment methods: select a payment gateway that offers the most suitable payment methods for the business. It would for sure include credit and debit payment cards. And there are extra options like mobile wallets, local payment methods, Google Pay, Apple Pay, and more.
Currencies: it is very logical to choose a payment gateway that provides payment in those currencies where the business operates.
Countries: make sure a payment gateway provides services in a country where a company is registered.
Transaction fees: one of the first parameters to pay attention to. We recommend comparing the on per transaction fee, monthly or yearly charges, chargeback fee, and the complexity of charges.
Transaction location. The transaction location describes not the actual location on the map. It is about the location of the payment. Whether it happens on the merchant's website or is redirected to another web page for conducting electronic payment.
Recurring billing: not all of the payment gateways offer recurring billing services. If the business needs this feature for the subscription payment model, this might be a good factor of choice.
Compliances: security and legality are out of the discussion. Currently, three main global regulations control how merchants must deal with private customers' data. Watch out for the following regulations: Payment Card Industry Data Security Standard, General Data Protection Regulation, and Second Payment Services Directive.
And obviously, a merchant needs a selling platform to install a gateway on and to connect the payment processing to it. We have listed some of the good options here: "The top 10 most popular online payment gateways for your website, compared".
Accept credit and debit card payments
Credit and debit card payments have long ago become essential in online shopping and remain the most common method to purchase goods and services over the internet. When it comes to accepting online payments on the website or online platform, credit and debit card payments are what customers expect as a minimum from a merchant.
4 reasons to accept credit and debit cards payments
Motivate customers for instant purchases. Customers today prefer to have a smooth and integrated payment experience, performing transactions in no time. Besides that, credit and debit card payments enable spontaneous and impulsive purchases.
Improve customers' experience and satisfaction. Credit card payments enable various bonus systems for customers, along with chargeback options.
Analyze customers' preferences. The data of purchases together with information of the time, location, profile, can be a huge marketing help. It is also valuable to see trends and generate customers' needs.
Keep tracking easily. Purchases with credit cards give the immediate tracking system of sales, which makes accounting the way easier.
Accept electronic money
Accepting electronic money on the selling website is a new normal as the digital world progresses. Electronic money represents the certain value of actual money and is transmitted via computer banking networks during electronic transactions.
Electronic money payments are well-secured and protected from fraud. All thanks to the encryption technology, customer authentication obligations, fraud prevention implementations, compliances, and regulations that financial institutions obey to offer electronic money payments.
It is fast to make purchases with electronic money. The transaction speed is quite high in this sector, almost instant. Besides that, it is more convenient. The online payment world is the best place for electronic money transactions. It protects the private data at the top level and serves the best customer checkout experience.
By the way, here is a text that gives some recommendations on customer experience maintenance: "Tips for collecting payments while maintaining a positive customer experience".
ACH processing
The other way to accept payment online is to take electronic cheques or simply eCheques. eCheques utilize the Automated Clearing House which is ACH, to conduct debit from a cheque bank account of a customer, and forward it to a merchant's account of a business owner, via the payments processor.
The Automated Clearing House is a network utilized for electronic money flow between various financial accounts within the United States of America. eCheques are transferred over the online banking networks, making transactions faster, more secure, and quite easy.
Accept payments via mobile phone
Mobile payment is a quite common way to perform payments today. To conduct a purchase via smartphone, a person just needs to confirm the transaction with a fingerprint. This technology ensures customers' and merchants' security, transaction safety, physical security of the payment device, transaction speed, and general utility.
Data security protocols in mobile payments provide safe online payment. There is one article about "How to avoid problems with online payments". It might be useful when you are choosing suitable online payment methods for your website.
What payment option is the best?
In fact, there is no direct answer. The best option would be the one that corresponds well with the business needs and customers' habits. Especially today, when technologies are evolving monthly, a merchant can not be fixed on one solution only. We recommend checking out the article: "Most popular e-commerce payment methods".
If you are searching for a suitable merchant service provider that offers a merchant account, payment gateway, full payment processing cycle, along with fraud prevention and chargeback alerts, we advise you to look at Maxpay. To find out which benefits it provides to a merchant, visit the website.